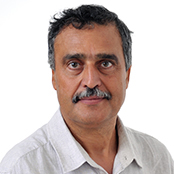 Professor and Director of the Mechatronics Engineering Graduate Program
American University of Sharjah, UAE
PhD in Mechanical Engineering, University of Florida, USA
lromdhane@aus.edu
+971 6 515 2497
Lotfi Romdhane has held academic positions at King Saud University, KSA, and the University of Monastir and Sousse, Tunisia. He has also been a visiting professor in France and Poland. His research interests are in robotics, mechanisms, machine design, biomechanics of motion and mechatronics. He has taught several undergraduate and graduate courses in these fields and supervised over 10 PhD students and 30 master's students. Dr. Romdhane is a member of the Technical Committee for Computational Kinematics and Robotics and Mechatronics of the International Federation for the Promotion of Mechanisms and Machines (IFToMM).